Accredited Online Creative Mindfulness for Kids Training
Pay in Full | Pay in 5 times | Pay in 10 times | Pay in 20 times |

Course overview
The Accredited Creative Mindfulness Kids Method introduces mindfulness to children in fun and creative ways. Children learn how to calm and relax their minds, to focus and pay attention, to understand and express their thoughts and feelings and cultivate kindness for themselves and others through creativity, art, craft, stories, meditation, visualization and discussion.
This is a fully accredited online training where you study at your own time and pace. You can start the course whenever you like as soon as you enroll, you will have lifelong access to all the course material! I would recommend that you set aside about 2 months to take the course but some people take the course in a month and some spend over a year taking the course, the amount of time you take to complete it is completely up to you.

Course Internationally Accredited

This course is internationally accredited by the IMMA (International Mindfulness and Meditation and Alliance) and the CPD (Continuing Professional Development). This means you can practice anywhere in the world. We are also linked with insurance companies who can insure your private Creative Mindfulness practice.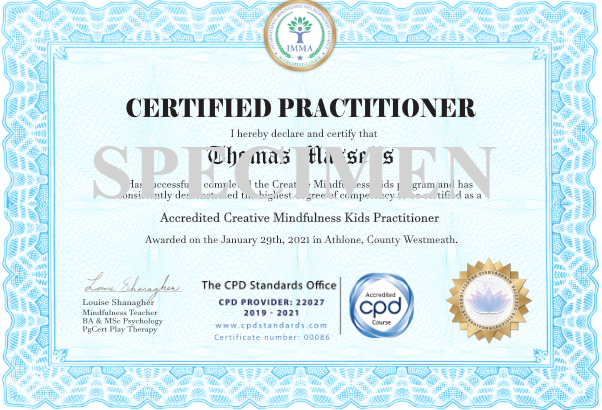 Participants will be awarded a practitioner certificate in the Creative Mindfulness Kids Method once they have completed all nine modules as well as the course assignments. This training is suitable for teachers, therapists, mental health professionals, parents and anyone interested in working in this area.
What's included?
The training comprises 9 modules in total. It includes 250 pages from "The Mindful Heart" curriculum. The last two modules will focus on introducing participants to the Curriculum which contains 10 complete lesson plans which can be adapted to teaching children aged 4 to 12 years.
4 Weekly Webinars
Louise holds Creative Mindfulness for Kids weekly webinar on Thursdays at 8pm (recorded), and also optional Personal Practice sessions on Mondays, Wednesday and Fridays (not recorded). An opportunity to exxchange with Louise and other peers.

Fully supported
Connect with other students and practitioners via WhatsApp and Facebook groups. Louise supports you via live webinars, and 121s. Or simply contact us with a calling or an email! We will there for you ;)


Bundles

There are also extension courses of the Creative Mindfulness for Kids Training which can be taken after completing this course. These add-ons will allow you to teach Creative Mindfulness to preschool children, teenagers and also facilitate a mindful parenting programme.

\Learnworlds\Codeneurons\Pages\ZoneRenderers\BundleCards
We have received consistently fantastic feedback on this course and have pages and pages of reviews we can send to you if you like. You can also check our reviews on
Facebook here.
More questions?

Have a look at these FAQ videos which might also help you with your questions.
How did you become interested in the area?
What is the Creative Mindfulness Method?
What is the Creative Mindfulness Kid Practitioner Training?
How long does the course take to finish?
Is the course internationally recognised?
Do you offer payment plans?
Who can participate in the course?
Does the course include assignments?
Can I know more about the webinars?
What are the daily practice sits?
What is the mindful heart curriculum?
What are the add-on courses?
After I finish my training, what are my options?
Is there ongoing support after the training?
How is this course different from other courses?
Do you offer any courses for older age groups?
Why is this work important to you?
Need more?

And, if you still haven't found what you are looking for, Louise or one member of the team can set up a call to answer any of your queries. Just answer this email with your phone number and availability. We will be delighted to assist you.
Louise Shanagher
Ballymurray, Co. Roscommon
Louise Shanagher is a children's therapist, mindfulness teacher and Psychology Lecturer from Co. Roscommon, Ireland. Louise has a BA and MSc in Psychology and further qualifications in Psychotherapy and Play therapy. She is passionate about creating a happier and healthier world. Her mission is to promote and nurture positive mental health while equipping people with valuable self-care tools that will last a lifetime. She works with children as young as preschool age and visits primary and secondary schools, nationwide. Louise facilitates adult mindfulness and self-compassion workshops and offers wellbeing and mindfulness training in the workplace. Louise also regularly gives training workshops for teachers and other organisations who work with children and young people.