Accredited Online Creative Mindfulness for Kids Training
Pay in Full | Pay in 5 times | Pay in 10 times | Pay in 20 times |

Course overview
The Accredited Creative Mindfulness Kids Method introduces mindfulness to children in fun and creative ways. Children learn how to calm and relax their minds, to focus and pay attention, to understand and express their thoughts and feelings and cultivate kindness for themselves and others through creativity, art, craft, stories, meditation, visualization and discussion.
This fully accredited program invites you to embrace mindfulness with compassion, kindness, and love for yourself and towards others.
Enrolling in our course grants you immediate and lifelong access to all the course material, offering you the freedom to embark on this beautiful path as soon as you are ready. By nurturing a lifetime connection, we ensure that you can revisit and immerse yourself in the teachings whenever your heart desires.
While we suggest setting aside approximately 2 months to fully savor the course, we want to emphasize that your personal journey is unique and cherished. Some will find their hearts drawn to complete the course within a month, while others may prefer to savor each lesson over the course of a year or more. The choice of time is entirely yours, as we honor and support the rhythm that resonates within you.
With open arms and a caring community, we are here to support you every step of the way.
Empty space, drag to resize
Course Internationally Accredited

This course is internationally accredited by the IMMA (International Mindfulness and Meditation Alliance) and the CPD (Continuing Professional Development). This means you can practice anywhere in the world. We are also linked with insurance companies who can insure your private Creative Mindfulness practice.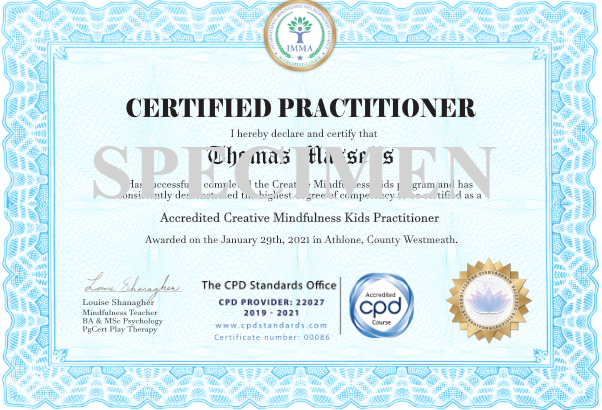 Participants will be awarded a practitioner certificate in the Creative Mindfulness Kids Method once they have completed all nine modules as well as the course assignments. This training is suitable for teachers, therapists, mental health professionals, parents and anyone interested in working in this area.
What's included?
The training comprises 9 modules in total. It includes 250 pages from "The Mindful Heart" curriculum. The last two modules will focus on introducing participants to the Curriculum which contains 10 complete lesson plans which can be adapted to teaching children aged 4 to 12 years.
4 Weekly Webinars
Every Thursday at 8pm, Louise conducts a weekly webinar called Creative Mindfulness for Kids. It's recorded so you can watch it whenever is convenient for you. Additionally, on Mondays, Wednesdays and Fridays she offers optional Personal Practice sessions that are not recorded. These sessions give you the chance to connect with Louise and other like-minded individuals as well as share your personal journey in mindfulness practice.

We are supporting you along your journey.
We are here to offer you our full support! Join our WhatsApp and Facebook groups to connect with fellow students and practitioners. Louise will be there for you through live webinars or one-on-one sessions, but don't hesitate to reach out via phone or email if you need anything. We're always available when you need us :)
Obtain a Grant to do it.

If you require financial aid for your educational pursuits, the Irish Social Welfare offers a Training Support Grant that could potentially assist you. To check if you meet the eligibility criteria, kindly visit their website and reach out to one of their friendly case officers who will be happy to guide you through the process. It's important to note that this grant is solely applicable towards enrollment in Creative Mindfulness for Kids Training course and not valid for Mindfulness Teacher Training program.

https://www.gov.ie/en/service/11dbee-training-support-grant/

Bundles

We are delighted to introduce our Creative Mindfulness Online course bundle, designed with your well-being in mind. Our comprehensive package offers a range of mindfulness techniques and practices that will help you embody Louise's teaching.

\Learnworlds\Codeneurons\Pages\ZoneRenderers\BundleCards
Empty space, drag to resize
Our course has been receiving overwhelmingly positive feedback. We have an extensive collection of reviews, which we would be happy to share with you upon request. Additionally, feel free to browse through the glowing testimonials on our
Facebook
page as well!
More questions?

Have a look at these FAQ videos which might also help you with your questions.
How did you become interested in the area?
What is the Creative Mindfulness Method?
What is the Creative Mindfulness Kid Practitioner Training?
How long does the course take to finish?
Is the course internationally recognised?
Do you offer payment plans?
Who can participate in the course?
Does the course include assignments?
Can I know more about the webinars?
What are the daily practice sits?
What is the mindful heart curriculum?
What are the add-on courses?
After I finish my training, what are my options?
Is there ongoing support after the training?
How is this course different from other courses?
Do you offer any courses for older age groups?
Why is this work important to you?
Need more?

If you haven't yet found what you're seeking, don't worry! Our team is here to help. Simply click on the button bellow to send us an email with your contact number and preferred time for a call, and Louise or one of our friendly members will be happy to answer any questions you may have over with a call back.
Louise Shanagher
Ballymurray, Co. Roscommon
Louise Shanagher is a children's therapist, mindfulness teacher and Psychology Lecturer from Co. Roscommon, Ireland. Louise has a BA and MSc in Psychology and further qualifications in Psychotherapy and Play therapy. She is passionate about creating a happier and healthier world. Her mission is to promote and nurture positive mental health while equipping people with valuable self-care tools that will last a lifetime. She works with children as young as preschool age and visits primary and secondary schools, nationwide. Louise facilitates adult mindfulness and self-compassion workshops and offers wellbeing and mindfulness training in the workplace. Louise also regularly gives training workshops for teachers and other organisations who work with children and young people.