Accredited Online Creative Mindfulness for Kids Training
Course Internationally Accredited
Course overview
The Accredited Creative Mindfulness Kids Method enables you to teach mindfulness to children in fun and creative ways. You will learn how to help children to calm their minds, understand their thoughts and feelings and cultivate kindness for themselves and others through creativity, art, craft, stories, meditation, visualization and discussion.
Certification included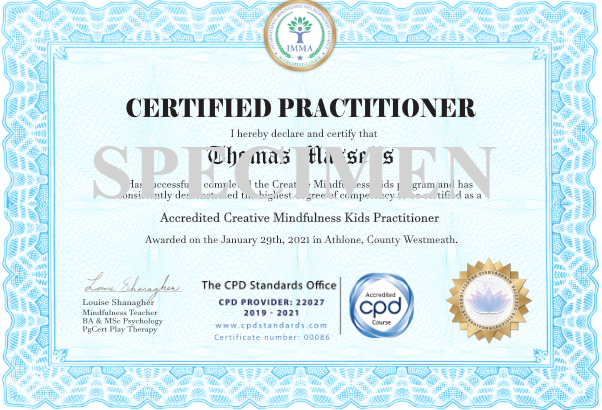 Offering access to everyone
Depending of your situation, the Irish Social Welfare offers a Training Support Grant to help you funding your studies. To know if you are eligible please check on their website and contact a case officer. N.b.: for the Teacher Training, you need to pay first regardless the Social Welfare approval.
https://www.gov.ie/en/service/11dbee-training-support-grant/

1 Accredited Certification
Webinars
Louise holds Creative Mindfulness for Kids weekly webinar on Thursdays at 8pm, and also optional Personal Practice sessions on Mondays, Wednesday and Fridays at 8pm.
Fully supported
Connect with other students via WhatsApp and Facebook groups. Louise supports you via live webinars, or simply contact us with an email or a phone call!
Louise Shanagher
Ballymurray, Co. Roscommon
Louise Shanagher is a children's therapist, mindfulness teacher and Psychology Lecturer from Co. Roscommon, Ireland. Louise has a BA and MSc in Psychology and further qualifications in Psychotherapy and Play therapy. She is passionate about creating a happier and healthier world. Her mission is to promote and nurture positive mental health while equipping people with valuable self-care tools that will last a lifetime. She works with children as young as preschool age and visits primary and secondary schools, nationwide. Louise facilitates adult mindfulness and self-compassion workshops and offers wellbeing and mindfulness training in the workplace. Louise also regularly gives training workshops for teachers and other organisations who work with children and young people.